According to The Street Book: An Encyclopedia of Manhattan's Street Names and Their Origins, Allen Street gets its name from William Henry Allen, the youngest Navy captain in the War of 1812. (Our then-recent ex, Great Britain, was beefing with Napoleon while America stayed neutral. The U.S. was trying to send a flow box to France, and Britain felt some type of way about it. Like any bitter ex who sees someone else wearing your hoody after a messy break-up, they went to war.)
Legend has it that Allen was in the English Channel on the hunt for opposition, when he stumbled on a Portuguese cargo ship carrying wine. Him and the squad had a wild night with the haul, but unfortunately, got caught slipping by the British on the following day. Allen and his crew's colossal hangover would be their last: British canons shot off his leg, and he would die on August 18, 1813.
200 years later, L.E.S Skatepark was born.
Allen Street begins at the southern point of the universe's nexus at First Street and First Avenue. On any given day, you will see girls and boys (some of them hungover, like Allen himself) pushing skateboards between its traffic. Up until the city repaved Avenue A in 2017, it was the smoothest artery between Tompkins and L.E.S Park. It is adjacent to Labor Skateshop, and the drop-off point for the low-cost/high-risk Chinatown buses that connect New York to other skateboard hubs throughout the northeastern United States. Taking a turn off this main passage yields a hidden society of dollar dumplings, dollar slices, cigarettes with out-of-state stamps for half the price, and art gallery openings eager to get you drunk for free.
Around ~2014, a new form of low-cost skater housing emerged via a Chinatown realtor named Cindy. For a fraction of market price, she would provide you with a room in this ~trending~ zone of Lower Manhattan that ebbs from Chinatown to the Lower East Side and unmistakably back to Chinatown again, no credit-check required. The only catch is, of course, that you would have to share your slice of this too-good-to-be-true apartment with a Fujianese family that you had no language or culture in common with — and they would maybe instate some avant-garde tenant policies. One such QS-affiliated occupant was barred from using the shower, and forced to get a YMCA membership solely for shower use. But an $800 room on Grand Street that's a five-minute push to L.E.S? Sure, why not ¯\_(ツ)_/¯
These are only some of the factors that lead to Allen Street being the bustling hub of skateboarding that it is today.
However, before we go forward, we must look back — back to a time before Labor, before the L.E.S. Park, before smartphones, and before Johnny Wilson. Let's start from the top…
…of Allen Street, that is.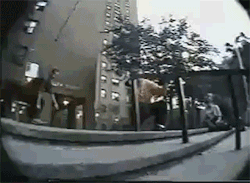 Josh Kalis in Peep This, 1999
While colleagues on the west coast might have been welcoming hell in the late nineties, New York was only beginning to dip its toes into the satanic practice known as handrail skating. There was a low, square rail down four long steps at 189 Allen Street, not far from the corner of Stanton. Josh Kalis switch frontside nosegrinded it in 1999, marking perhaps the first time somebody did a switch grind down a rail in New York. It was the equivalent of a skatepark rail in the wild, but was replaced with an unskateable variant before Al Gore was elected president.
Shawn Powers, 2011
Ben Nazario, 2008
Otherwise, the corner of Allen and Stanton Streets would not grow synonymous with productivity — oh no, quite the opposite. Shawn Powers might have broke tradition by making use of the #urban #art #installation that lived in the median in the early 2010s, and Ben Nazario ollied the iron fence at its border, but this intersection otherwise became known for a nefarious post-session saloon. Epstein's Bar, a one-time anchor of the Lower East Side's now dissolved Bar-Muda Triangle (Max Fish & Sweet Paradise being the other points), rose in notoriety for 25¢ wing nights (two drink minimum) on Mondays throughout the 2000s, sidelining many promises of "we should skate midtown tonight! …but I gotta eat something" week after week, year after year. Allen's hungover ghost would be proud.
Epstien's shuttered its doors in 2015 and rebranded as a bro bar, though skaters had moved on long before this proverbial nail in the coffin.
Jordan Trahan, 2018
Unlike other Lower East Side streets, Allen has a massive median separating its north/south traffic. From 1878 until 1942, an elevated train ran down Allen from Houston Street to Division Street. Once the El tracks were dismantled, the barren strip of cement that sat under them remained. The city named them the Allen Street Malls, and Jordan Trahan no complied over their fence off a parking block sometime between 1942 and today.
Alex Olson in "Rack," 2015
The Malls south of Delancey were renovated in 2012, and would become the main trade route of downtown skaters. The path yielded a water fountain at the Malls' northeast corner, which Alex Olson ollied over into the street, and earned daps from a passerby, to whom he would presumably extol the virtues of veganism shortly thereafter.
But once you get to Broome — it's a fucking scene, man.
Shin Sanbongi in We Blew It At Some Point, 2018
Max Palmer in Trust Fall, 2019 (Gif via Mostly Skateboarding)
Alex Olson in "Sup World," 2016
New York skateboarding has a tradition of turning nothing into something — Tompkins, Astor Place, T.F. West — except this compulsion reached perverse new heights here. We managed to carve out street gaps, tops of benches that were over-skated to the point of eventually getting knobbed, a micro-bump, and most subversive of all, a ride-on ledge out of this tepid redesign (the final piece of the spot to be unlocked.) No bright-eyed and bushy-tailed skater looking to make a name for themselves in the big city ever pulled into Manhattan on the Chinatown bus and thought, "I can't wait to waste my twenties at the median on Allen and Broome!"
Sadly, that's what happens. It is the skateboard-equivalent of the cliché about the small town screenwriter moving to Hollywood to make it big, only to wind up working craft services on porn sets for two days a week.
Matthew Perez, 2016
Ben Kadow in "BLESSED," 2018
The Malls revert to the condition that the El train left them once you reach Canal. If you want to continue, there is a moat you must cross at Canal and Allen's southwest corner, which is perpetually filled with dirty water that has waterlogged the boards of all those who have tried to skate it.
Kevin Tierney in "Train of Thought," 2016
Dick Rizzo in Deep Dish 2, 2015
Past the bog water, uneasiness sets in. You might notice the short-lived polejam that Kevin Tierney jammed off switch, or the borderline invisible lump of cement that Dick Rizzo used to hoist himself over yes, yet another section of the Malls' fence. But you'll also find that the cement is more cracked up, the pedestrians are walking with their heads down, the bus stations are less frequent, and the Chinese restaurants shuttered. The street widens at Pike. The dread is palpable. You feel the magnetic pull, and you see it off in the distance.
What is it? It's L.E.S. Park.
The last few blocks past East Broadway begin to feel like the end of the earth; the cement wasteland ahead triggers P.T.S.D. from that time you went to Berghain. This stretch of Allen is there to remind you of one thing: from this point forward, you're on your own.
Previously: The Skateable History of New York's China Banks, The Skateable History of Columbus Park, The Skateable History of Houston Park, The History of Skateable Seaport