Quartersnacks turns eight-years-old today. No clue how that happened, but thank you to everyone who has ever visited, linked and supported the site in any way — whether it was through telling a friend about it or buying a tee shirt. Hopefully, we make it a few more years before we run out of things to talk about on here ;)
But before the visitors, there are the many characters who add color to each page of the website. Clearly, cutting edge skateboarding was never the goal around here. We were always more concerned with the personalities that surround skateboarding, and beyond the hundred-plus videos that have piled up over the years, there's no better way to relay that than the quotes from family, friends and influences found on the site each week. We did a similar compilation back in 2011, but have amassed many more since then. Given that social media is more deeply embedded into our lives with each passing year, this one contains a lot more screengrabs than the past version.
Thanks again to all. We r proud 2 be born during fashion week.
+++++++
Doorman at the Zoo Office: "Where you been E.J.? Haven't seen you for a while."
E.J: "I was traveling all over, Rome, Barcelona, Berlin…"
Doorman at the Zoo Office: "Damn, you know where I really wanna go? Los Angeles."
"Ty, do you think Supreme would be down to put an ATM in front of the shop?" — Fat Billy from Spring Street
"I'm like the 'Captain Save a Hoe' of skateboarding. I pick the worst possible spots and put too much effort into trying to skate them." — Torey Goodall, in reference to skating this hell hole
Observant Gentleman: "Every time I have Swiss bearings, it seems like everyone else's are better than mine."
Isak Buan: "Yeah, it's sort of like having a girlfriend."
[In reference to this shirt] "Who is that? Wait…is that Rick Howard? And who's he with, a lesbian?" — Fred Gall
5 P.M.
11 P.M.
2 A.M.
4 A.M.
"Yo, Chinatown is crazy. I feel like I'm in Tokyo." — E.J.
Observant Gentleman: "Yeah, 2008 was a good summer."
Alexander Mosley: "Of course it was a good summer, every summer is a good summer. You never hear anyone say 'Yeah, that was a good winter.'"
"I have to go home and switch out of my fucking job interview clothes." — The Artist Formerly Known as Brengarfield
"There are two guys in front of Tompkins with a sign that says 'Free Advice.' Brengar should sit down next to them with a sign that says 'More Free Advice.'" — Bill Strobeck
"Autumn is fucking closed and assholes are taking pictures on iPads, the future sucks." — Francesco Pini, Chief Officer of QS International's Italian and Scandinavian Branches
"Oh 2 Beerz is back in town? I need to get a new roll of film." — Boss Bauer
"I love when Torey comes to town, it's like a holiday. Everyone gets off work and shit." — T-Bird
"I can't wait for kids to come up to me and tell me I suck." — Lurker Lou regarding OIAM
"[The] Shawn Powers gif [is the] most ethnically ambiguous gif of 2012." — QS Commenter "honestly.."
"Yeah, the du-rag from that one summer was ironic, but I used to wear du-rags un-ironically." — Roctakon
"Black girls stay biting punk girls' swag." — Black Dave on the popularity of Rihanna haircuts
"I just realized how sick it is that Brian Anderson skated to a Muska Beatz song in Modus." — Alex Olson
"I've only been in there once and never want to go back. I felt so uncomfortable; it's run by upscale Muslims." — E.J., notable T.F. historian, on the remodeled Tompkins deli
Pad: "We should do a Costa Rica trip."
Roctakon: "You've been watching too many Green Diamond videos."
"Should I dye my hair blonde? Gino had bleached hair in Yeah Right, so it should be okay, right?" — Mooney
"The only reason I think it's okay for me to have a Goyard bag is because Natas Kaupas has one." — Alex Olson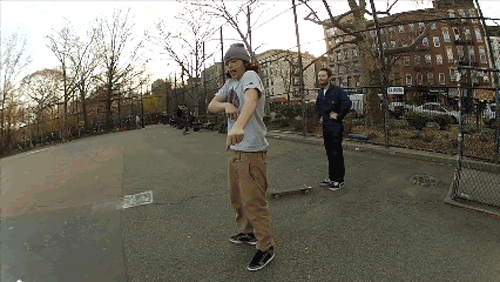 "Yo, I don't understand something…how do these skateboard niggas dress mad bummy, but stay pulling bitches?" — Overheard Niketown Employee
"What's D7? The chicken wing spot?" — Tufty
"I own Quartersnacks, play for the Sacramento Kings, and am pro for Hopps." — Matthew Mooney on what he tells girls regarding his employment or lack thereof
Inquisitive Gentleman: "What's the whitest trick in skateboarding? A benihana?"
Neal Santos: "Snowboarding."
"I'll kick your ass…first try." — Drunk Skateboarder Getting Into a Fight
Pad: "Yeah, I don't do really do brunch anymore, but went to this spot in the West Village today. It wasn't that good and way too expensive."
Roctakon: "Sounds like the West Village. Also sounds like brunch."
"The future is dark out here man. The future we need is the one from Atlanta." — Francesco Pini, Chief Officer of QS International's Italian and Scandinavian Branches regarding Italy's Debt Crisis
"The place you go to get an EBT card is like the McDonald's of bureaucracies." — T-Bird
"The less money someone has in their bank account, the more likely they are to win a game of S.K.A.T.E." — Roctakon
"My day date got rained out, so I texted her that night saying 'It looks like a dry evening, unless I make you wet later.'" – G-Man
"Hamburger featuring cheese." — Black Dave ordering lunch
"Should I see Magic Mike or the Katy Perry movie?" — T-Bird
"Slappying curbs is like talking to girls, you just have to press up on them a bit." — Andre Page
"Intelligentsia looks like a meth lab." — Pryce Holmes
"People with friends don't have condos." — Jack Sabback
"I like to keep my skateboarding romantic." — Torey Goodall
Non-Baseball Fan #1: "The Mets are for old Jewish guys."
Non-Baseball Fan #2: "No, the Yankees are for old Jewish guys."
Both Non-Baseball Fans Together: "…baseball is for old Jewish guys."
"I hollered at this thick rubbery girl today." — The G Man
"Come on, bro. Represent." — A L*ngb**rder pushing up the Williamsburg Bridge to a skateboarder walking up the Williamsburg Bridge
"It's fun…as opposed to boring." — Torey Goodall
"My girl's been waiting on me for an hour. That don't mean I got to leave, I just got to go outside to get service, so I can tell her to wait longer." — Black Dave
"White folks don't know about Peanut Chews. That's candy for old black men. My father and his father ate those. Y'all [white people] just have Hershey Kisses in your houses." — Josh Velez
"What are all these white people doing here? This ain't the line for the Blink 182 concert." — Overheard at the 2 Chainz show on Saturday
"I'm the Turkish Darren Harper." — Guy Riza
"Yo, I just went to Zumiez…Zumiez is the truth!" — Overheard at Tompkins
"Kendrick Lamar reminds me of a rapper from late era 411." — Jack Sabback
"What's that girl with the cool tramp stamp's name again?" — Anonymous
"This place is Ted Narrow." — Tyler Tufty regarding the width of a bar that Ted Barrow was working at
"Pick up your pants, you criminal!" — A Parks Department security guard regarding the G Man's sagging, oversized pants as he fled a prohibited skatespot.
"This is the longest my hair has ever been, and consequently this is the sexiest I have ever felt." — Josh Velez
"Yo this dude is dressed like he just saw Fight Club." — T-Bird
"Who hangs out with a girl on a Saturday afternoon? Girls are for rainy days and nighttime." — Sweet Waste
"Y'all can't use this railing to play your stunts." — A Security Guard Referring to a Ledge
"Daft Punk making an album with no samples is like Stevie Williams filming a transition part." — Roctakon
"Vin Diesel obviously drinks, so he has like…tits." — Uncle Marty's Fast & Furious 6 Review
"My rule for talking to girls in Philly is to never talk to a chick who's taller than me, because if she's taller than me, she's a man." — Andre Page
"I wanted to be on The Real World when I was younger." — Chief Keith "#emergingblackcelebrity" Denley
"I feel like people who drive Smart Cars do, like, smart-ass shit." — E.J. upon seeing a Smart Car weave between two construction cones
"Coming back to New York is like getting out of jail." — Billy Rohan
Inquisitive Gentleman: "What's up, where you headed?"
Tyshawn Jones: "Lovely Day."
"I hate hearing people drive by blasting that 'Ain't Worried About Nothing' song when I'm worrying about landing a trick." — Lurker Lou
Inquisitive Gentleman: "How are you doing?"
Torey Goodall: "Good. Pretty bad."
"Yo, I left my chopped cheese in your car. Can you bring it to work with you tomorrow?" — Andre Page