Here's a trailer for J.P. Blair's video, Outdated, which premiered at House of Vans this past Thursday. If you missed that premiere, NJ Skateshop in Hoboken is holding another one this Saturday (March 24th) at 8 P.M. Since it's unlikely that this video will ever make it to DVD (Jersey Dave insists otherwise…we'll see), did anyone happen to bootleg it?
Biebel: The new Steinbeck? Frozen in Carbonite digs deep into Brandon Biebel's past, present, and inevitable future as a life coach. "If one sits down at a bar stool in Anywhere, USA, one needs to be able to discuss the Steelers running back situation and/or the latest 2 Chainz mixtape and/or the various implications of the NBA trade deadline."
Stay scheming, fun with plywood, and abrupt endings — the new Krispy Du-Rag clip.
Contrary to some misinformation that we had a crucial role in spreading, Billy Lynch was never "missing," but merely skating an underground bunker somewhere in Long Island and touching up on backside noseblunts.
Black Dave reminds you that he's gonna shine, and that you should grind hard 100% on anything you do in this life. "Who filmed that video?" "I made my girl film that shit." God bless him.
Sweet Paradise officially R.I.P. Thanks for the memories. (If anyone has the picture of Galen passed out in the back on his 24th birthday that wound up on the Arab Parrot, I'll buy you a beer if you e-mail it to me.)
We went to Flushing this past Saturday to get as far away from the white people Source Awards A.K.A. St. Patrick's Day as possible. Others went to Polish sections of Brooklyn to avoid the hell. Given their affiliations with "green," the Green Diamond released an honorary clip of that dreadful day. Nothing like a classic by Pitbull to help you forget about the existence of St. Patrick's Day.
Rihanna in skate clips = forever chill.
…and hopefully, this will brighten up your Monday. Tompkins and Slicky Boy .gifs will be a content priority for the remainder of 2012.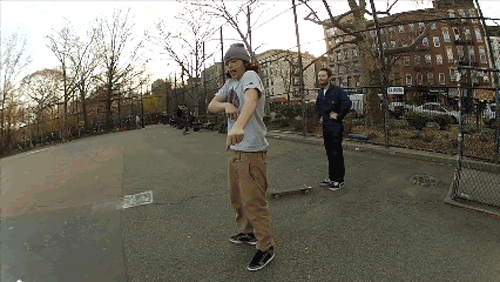 Quote of the Week: "Yo, I don't understand something…how do these skateboard n*ggas dress mad bummy, but stay pulling bitches?" — Overheard Niketown Employee
Has any scientific research been done to verify that it's not actually May outside?